Our summer-long facelift was completed just in time for a local production company to film a television advertisement for Harvey windows.
The ad, produced by Redtree Productions, features a Harvey window being installed in a lighthouse.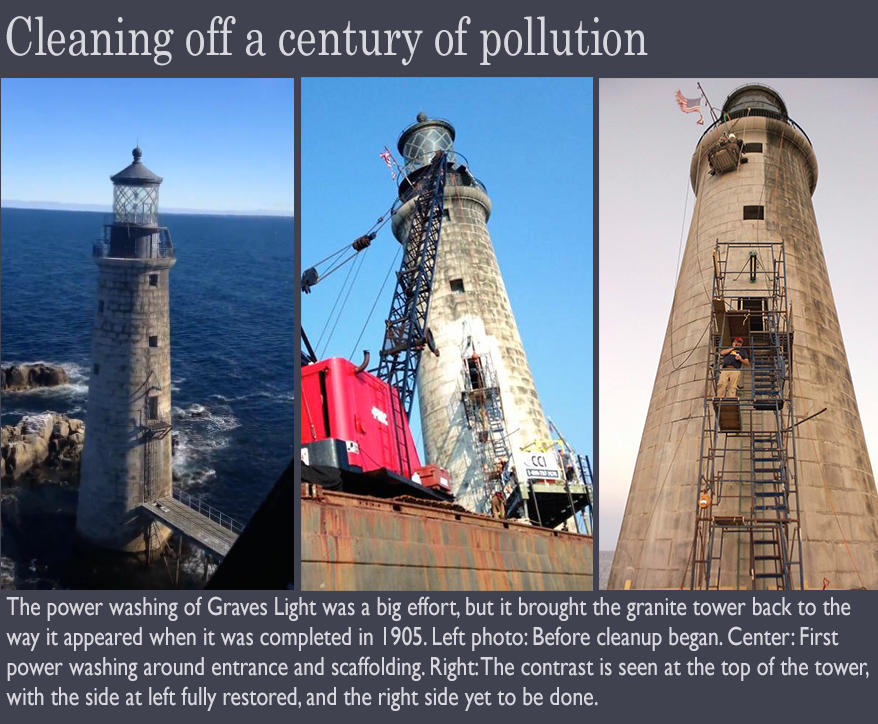 Shot in Boston Harbor, the ad shows Curtis, a Harvey contractor, braving choppy waters to deliver a carefully wrapped, custom-built window to the lighthouse.
The intrepid contractor takes a lobster boat to the rocky ledge and rows the window ashore in a wooden dinghy. He is greeted by a lighthouse keeper. (See still shot above from the ad, and the video directed by Jonathan Bekemeier.)
Freshly cleaned of more than a century's worth of coal dust and other grime, its stonework all re-pointed, Graves Light glows as it did when it was completed in 1905. There's even a glimpse of the freshly painted iron stairway railing inside.
In the ad, the lighthouse keeper leads the contractor the curving staircase. The window is neatly installed, showing the Harvey Building Products brand.
All this really did happen, and the Harvey window was installed at Graves Light. But it was just for the shoot. We're sticklers for staying as close to the original as possible, and one of our workers found an original 1905 casement window, in a rotted oak frame, stored in the oil house.
With that exciting find, we used the original window as a template for nine reproductions. Those were custom-built out of oak and brass, true to the original, by a master carpenter in Nantucket.
But the Harvey ad sure tells a nice story. Here's Harvey's Facebook page, and the YouTube video, below.