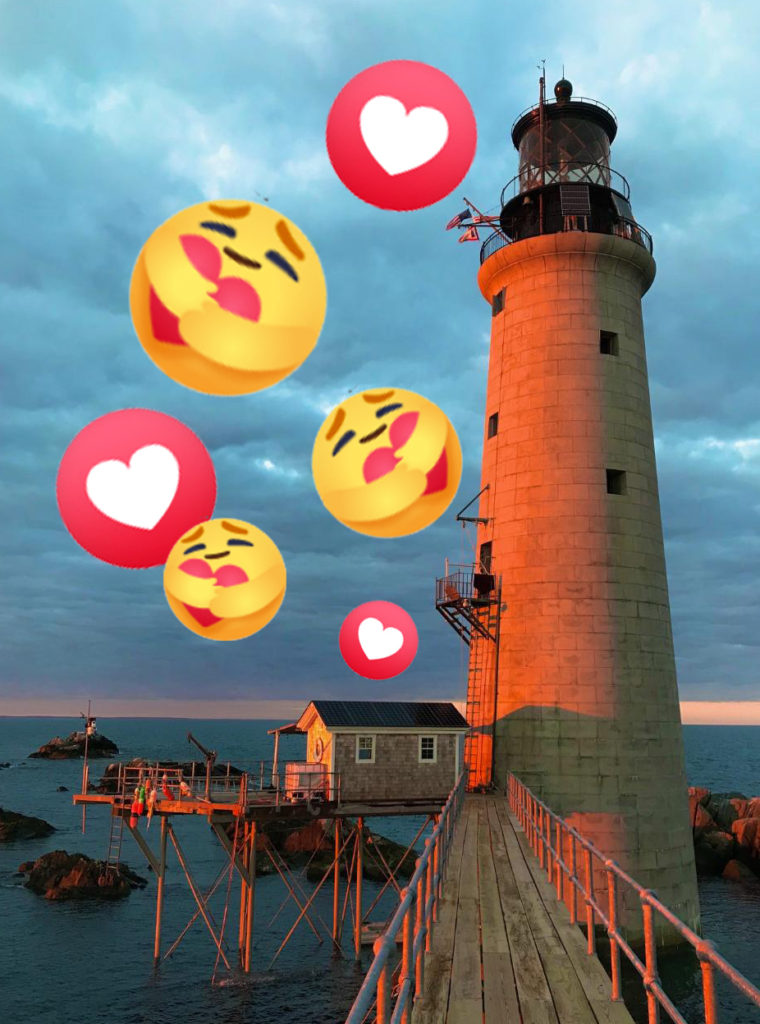 All of us at the Graves Light family are overwhelmed by the wonderful outpouring of support after public reports that the Town of Hull is trying to annex Graves so that the lighthouse can be regulated, taxed, and fined.
More than 2,000 people an hour saw the story in the first 12 hours after the news appeared on our Facebook page,
Hundreds expressed their support for Graves Light and their criticism of Hull's town leadership.
More than a hundred in the first afternoon and night offered their comments. Nobody supported Hull leaders. Anyone can read our Facebook page to see the names of the authors.
Hull residents are furious at town leaders
Several Hull residents expressed frustration at how the town is wasting taxpayer funds harassing Graves when the town can't even provide reliable electricity through its energy monopoly. Here are some of the comments from the first 12 hours, some of which are edited for punctuation:
Frank S, Hull: "We can't even get electricity during storms that blow at 6 miles an hour. What the hell are we gonna do with an island?"

Laura B, Hull: "I'm so sorry about this as I live in Hull. I have enjoyed seeing the fruits of your labor and marveled at how much you have accomplished against tremendous odds. I wish the power that be would put more time and energy into keeping our electricity up and running than spending money suing you!"

Ron P, Hull: "Please don't lump all of the Hull residents in with this situation. I guarantee that the residents of Hull are on your side."

Tim W, Hull: "That is such bull****, I live in Hull and they want their hands in everyone's pocket …. you guys are doing an amazing job restoring the lighthouse."

Karen C, Hull: "So sorry this is happening to you from my own town!"

Bill W, Hull: "More evidence of how inept our Town Manager & Board of Selectpeople are. The townspeople of Hull were never informed or given the chance for input on claiming Graves ledge for free, nor has there been any town meeting as to why Hull wants it now."

Christine W, Hull: "Hull is terrible with money and running so many dirty schemes. They should tax [Town Manager] Phil [Lemnios] on his years living in Natick."
'Shame on you, Hull!'
Here are some of the early comments from around the area:
Jayne W, Tewksbury: "It's just a grab for property taxes. And with all the improvements you've made, they're imagining a wonderful assessment. Fight this."

Katherine M, Nantucket: "This is ridiculous and I hope you guys have great lawyers, keep spreading the story. Where is the Boston Globe etc."

Holly R, Weston: "A land grab is not a good look for you, Hull."

Sean G: "What service is Hull planing on offering you? Public school? Fire station on island? Police patrol? Have they ever received tax revenue from any owner of graves island since the founding of the town in 1644?"

Ray H, ex-Medford: "Complete waste of time and tax money for the Town of Hull that is nowhere near The Graves."

Wendy S, Boston: "After all of the beautiful work (and expense). That is outrageous. And you guys were so eager to help the Coast Guard with repairs on Little Brewster. You have been so generous with your time, equipment, expertise, and finances. . . . I don't think Hull should get a cent . . . ."

Melinda G, Winthrop: "Shame on you, Hull!"

Cassandra C: "When you say, 'Shame on you, Hull!!', it seems as though you are addressing the taxpayers, and I doubt any of them are fans of this."
Boston sought to tax Graves but found no basis
A researcher for the Boston Assessing Department said he tried to find a way to tax the owners of The Graves, but – apparently because Boston recognized that the property is indeed officially unincorporated – found that it wouldn't be possible. Here's what he said:
Jim L, Scituate: "In 2014, I researched the Graves Light property and its sale to the Wallers. I worked for the Boston Assessing Department and wanted to determine whether the city could tax it. Initially I thought since Graves Light is in Suffolk County, one of three municipalities in coastal Suffolk County — Winthrop, Revere and Boston — would be able to do so. Bottom line: We determined the city could not tax it. I can't take issue with anything the Waller family has written in this post."