Serious lighthouse enthusiasts have a United States Lighthouse Society passport that they fill with stamps from all the lighthouses they've visited.
We are excited to announce that the US Lighthouse Society has issued the Graves Light and Fog Signal Station an official rubber stamp to allow us – and our friends – to participate in the passport program.
Even though Graves Light is not open to the public yet, and won't be for a while, we want to make sure that anyone with a US Lighthouse Society passport can get a Graves stamp.
The stamp is designed by the US Lighthouse Society.
Here's how it works. According to the Society, "When you visit a participating lighthouse, you can get your passport stamped. There are four panels on each page of the passport and each panel should have a different lighthouse stamp. When your passport is filled it will contain 60 stamps."
But what if, as in the case of Graves Light, you can't actually set foot at the lighthouse?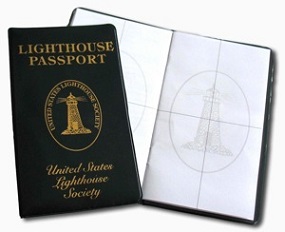 Not to worry. The Society says that if you can't get a visit for a passport stamp, just send proof that you tried and they'll acknowledge it if you send in your passport.
No need to wait to fill your passport, though. Readers of GravesLightStation.com, or those who follow us on Facebook or @GravesLight on Twitter, can get their passport stamped right away.
Its simple: Just send us your USLHS passport and a request for a stamp, plus a self-addressed stamped envelope (SASE), and we'll return your passport stamped with a Graves Light and Fog Station seal. If you don't already have a USHLS passport, just order one right here.
Graves Light isn't in a town, so you'll have to send your passport to our address in Boston:
Graves Light and Fog Station
180 Lincoln Street
Boston MA 02111  USA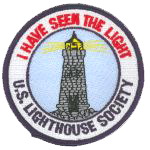 Now, here's what US Lighthouse Society says about its program: "The United States Lighthouse Society sponsors a Passport Program. A passport with a blue vinyl cover, similar in appearance to an official United States passport, is available through the Society and lighthouse retailers across the US.
"There are seven levels of accomplishment in the US Lighthouse Society Passport Program. Each level is reached by completing a passport book & sending it to the USLHS Passport Fulfillment Service for verification. Upon achieving each of the seven levels, you will receive an official, collectible patch recognizing your achievement and dedication to lighthouse preservation."