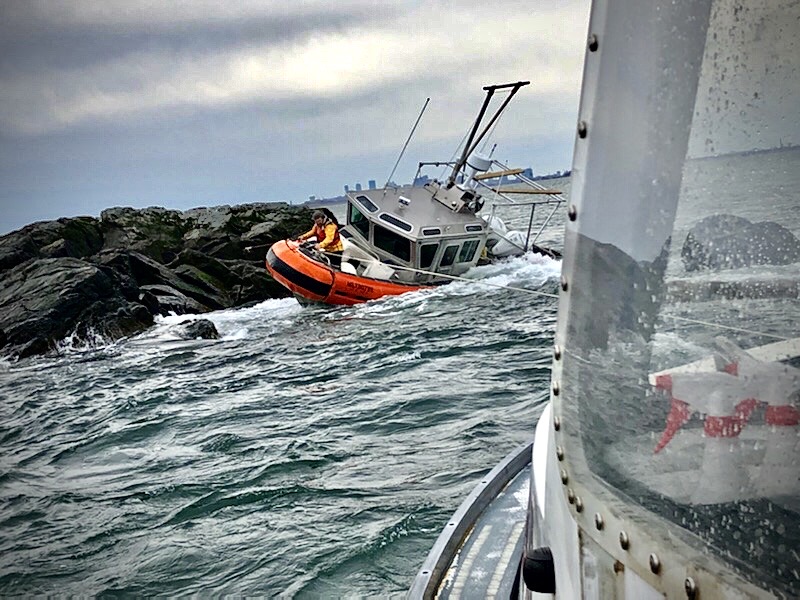 Dramatic sea rescue! Proof that no matter how well you know Graves Ledge, the area is always treacherous.
Saturday's calm seas beckoned us to the lighthouse for a maintenance check. Within an hour, a bit of wind sprang up and pulled Miss Cuddy II off her mooring to be thrown mercilessly onto the ledge, roiling in the surf and battering her hull.
These former Coast Guard Defender-class boats are built to take a wicked beating. Their work on Graves Light put them through the toughest tests..
We lost Miss Cuddy I in 2018 due to powerful seas that dragged her mooring and dashed her hull on the ledge. So we turned her into a barge to finish reconstruction work on Graves, and sadly scrapped her last year.
So on Saturday, March 28, 2018, the seas broke Miss Cuddy II from her mooring and slammed her viciously into the basalt ledge.
But just as quickly as bad luck strikes, good luck came our way. The mighty men of Boston Scuba, passing by after work on their trusty dive boat Keep-ah, noticed our plight. Using their expert seamanship they threw us a line and towed us off the rocks to the safety of deeper water.
The culprit: The new mooring had been chewed down to a thread below water, a grim reminder of the relentless power of the North Atlantic.
We raise a glass to our rescuers Cap't Jim and Master Diver Luigi! Thank you for saving Miss Cuddy II!