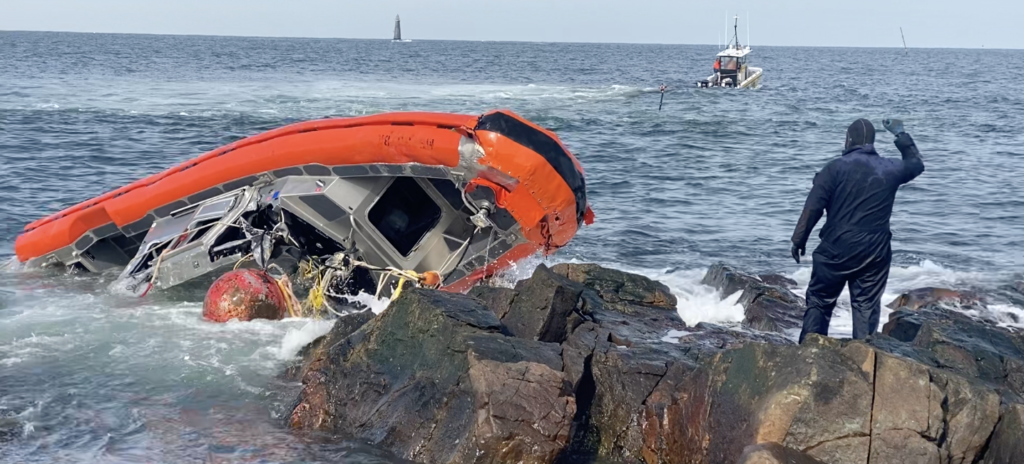 Our lighthouse journey took a bit of a beating as heavy seas pounded our trusty Miss Cuddy II, parted her newly installed Hazelett Marine mooring at Graves Light and cast her ten miles to smash her on Strawberry Ledge at Situate.
Minot's Ledge Light is seen in the distance as the guys from Sea Tow Boston and South Shore recover Miss Cuddy II, upright her, and float her away.
The North Atlantic's merciless thrashing on the granite reminds us of the dangers of the sea. Yet Miss Cuddy II's hull was left intact – testimony to the shipwrights at Safe Boat who built her for the US Coast Guard.
Fortunately the crew was safe at Graves Light the whole time. Many thanks (again) to Capt. Jim of Boston Scuba who came out to get us two days later when the seas were calm enough. The treacherous rocks and waters of Graves Ledge are no stranger to Capt. Jim, who rescued Miss Cuddy II a year ago.
Miss Cuddy I, the unsung hero of Graves Light, was wrecked in 2018. We turned her into a barge to help build the catwalk and upgrade the oil house, and her hull was scrapped the next year.
As for Miss Cuddy II – she was floated back to shore and got a ride on a trailer. Meanwhile, we brought a group to dive around Strawberry Ledge and pick up the wreckage. Many thanks to state and local authorities for their help.