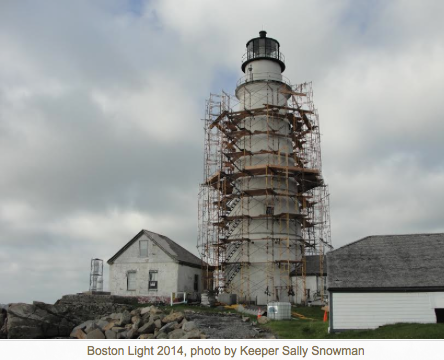 For a relaxing and informative look at the lighthouses in our beloved harbor, pack your picnic basket for an expertly narrated Boston Harbor Lighthouse Tour.
"This is the only Lighthouse Tour in Boston in 2014," says Friends of Boston Harbor Islands (FBHI), which sponsors the lighthouse cruise in cooperation with UMass Boston Marine Operations.
"Cruise through Presidents Roads past Deer Island and Long Island Head Lights, and Nix's Mate before heading out to Graves Light and returning past Boston Light on Little Brewster Island and Fort Warren on Georges Island," FBHI says.
"See up close the restoration work being done on Boston Light in preparation for its 300th anniversary in 2016," according to the FBHI promo.
Lighthouse cruise dates are on Fridays: July 18, August 8 and September 12, boarding the MV Columbia Point at 10:45 a.m. from UMass Boston Harbor Campus, Fox Point Pavilion on Dorchester Bay.
The expertly narrated lighthouse cruise does not land on any of the islands, and provides open top deck seating, indoor air-conditioned cabin seating, on a wheelchair accessible vessel. Click here for more or download a brochure: 2014 Boston Islands tour