When first built, Graves Light included a substantial wharf, built of huge granite blocks.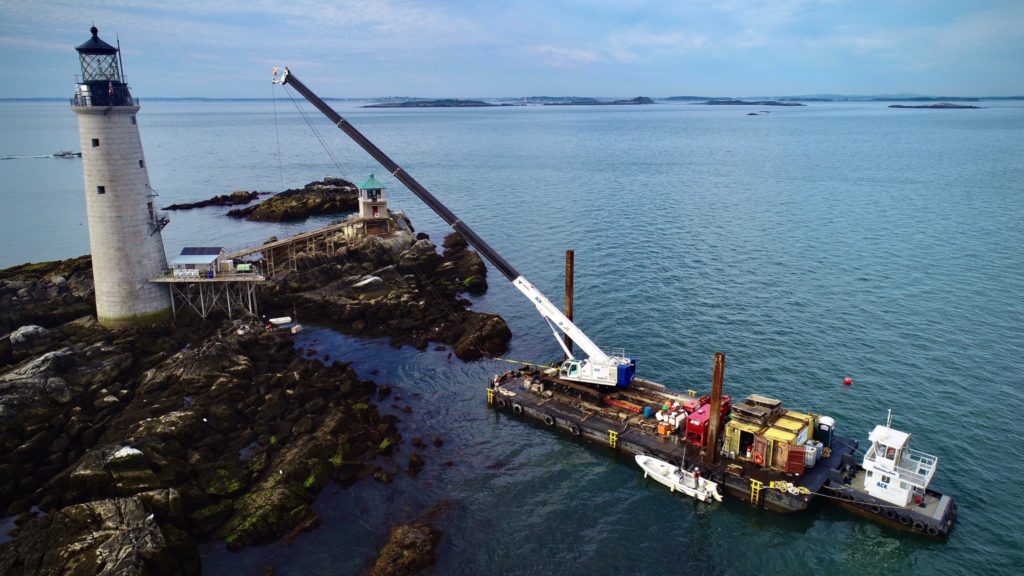 The sea has swept away all but four of the original massive stones. For years, divers have searched the bottom of the harbor around Graves Ledge and never found any of them.
So we rebuilt the wharf with 2-1/2 ton granite blocks recycled from an old New Hampshire railroad bridge. It was a complicated job.
With ACK Marine, we set three courses of granite blocks extending below most of the elevated wooden dock and a bit further into the harbor.
Guiding the blocks into place with precision required calm seas and a dead low tide. ACK set the first of the three courses of granite in a day.
The blocks were set in place in wet concrete with large holes bored through them.
To slow the inevitable destruction by the sea, the blocks were doubly held into place with massive steel pins that run through holes drilled through the entire thickness of each block and down into the ledge itself. Each pin was attached to the stone beneath the sea with high-tech, environmentally friendly epoxy.
ACK Marine then installed the wooden forms and poured a massive concrete slab behind the blocks to try and prevent heavy winter storms from knocking the whole thing to pieces.
Never know until you try!
Extra thanks to Mike S from King Pine for the helicopter photos and Michael B for the breathtaking overhead picture.