Graves Ledge, or The Graves, is named after English Rear Admiral Thomas Graves (1605-1653), an early settler of Massachusetts Bay Colony who commanded a vessel in Governor Winthrop's fleet in 1630.
Various accounts of this particular Thomas Graves exist. Many are erroneous due to careless research and confusion among several men of the same name.
For now, we can safely say the following, based on genealogies and historical accounts.
The Thomas Graves for whom Graves Ledge is named was born in Stepney, London, England, a marshy area along the Thames, in 1605. His father was a shipwright.
Graves took to sea early, and reportedly first visited Massachusetts as early as 1628. As a young man, he showed excellent seamanship and leadership skills. At age 25, he served as vice admiral of the 11-vessel fleet of Governor John Winthrop in 1630, as master (some reports say mate) of the Talbot.
Over the years Graves would crisscross the Atlantic, bringing thousands of English Puritan immigrants to Massachusetts with the Massachusetts Bay Company. He captained the first oceangoing ship built in America, the Tryall (Trial) on its second voyage from Boston to England.
For his service to the colony, Graves was awarded a land grant of 250 acres that included part of Charlestown and apparently what is now the Lechmere Point section of Cambridge. He brought his family to live in Charlestown in 1636-37.
Charlestown already had been laid out in 1629 by the other Thomas Graves, an engineer (see below).
Frequent trans-Atlantic travel allowed Vice Admiral Graves to maintain contact with leading figures in England. As a Puritan, he would have sympathized with Parliament under Oliver Cromwell, who led the parliamentary forces that executed King Charles I, for whom Charlestown was named.
Thomas Graves' short naval career
Graves, as a civilian, captured a Dutch privateer off the English coast in 1652. Britain, now a republic under parliament, was in hostile relations with the Dutch, mainly over trade issues and their rival East India companies.
In recognition of his courage and skill, Parliament appointed Graves master of the 34-gun ship President.  The following year he took command of the 42-gun Andrew (which the Puritans had re-named from the original St. Andrew). He now had the rank of Rear Admiral of the White.
Graves commanded the Andrew against the Dutch in the Battle of Scheveningen (also known as the Battle of Texel or Battle of Ter Heidje) of the First Anglo-Dutch War.
During that battle, on July 31, 1653 of the old Julian calendar (August 10, 1653 on the new Gregorian calendar), Dutch fire-ships attacked the Andrew, setting her decks aflame.
Rear Admiral Thomas Graves of Charlestown, Massachusetts, was burned to death in the attack. His body was buried at sea in Aldeburgh Bay off Suffolk, England, just across the channel from where he died.
Some accounts say, without substantiation, that his body was buried in England. Others stretch the tale to burial at sea in Massachusetts Bay, or in Charlestown, but there is no record or evidence of a grave.
That year, 1653, Governor Winthrop named the hazardous stone ledges at the entrance to Boston Harbor in Graves' memory.
The admiral's widow, Katherine Gray Graves, died in Charlestown on February 21, 1675. Her remains were buried at the Phipps Street Burying Ground, but no headstone remains.
Another Thomas Graves founded Charlestown
Some historical accounts say that Rear Admiral Thomas Graves established Charlestown. Those accounts are not accurate.
Another Thomas Graves, an engineer, established Charlestown. That Thomas Graves was a few years older than our namesake, born in 1598 in Gravesend, Kent, England. He was an engineer and town planner. He signed a contract with the Massachusetts Bay Company in 1629.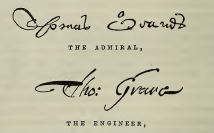 The signatures of the two Thomas Graveses differ (see image).
The admiral, less educated, wrote in an archaic Late Middle English script. The top signature is from his will, written in 1652 before the signer went privateering. The will was probated at Middlesex County, Massachusetts, on December 1, 1653.
The more educated engineer wrote clearly and in more modern form, using Early Modern English. The modern script – signed on a 1629 contract with the Massachusetts Bay Company – is readable to 21st century readers.
Charlestown Mayor Richard Frothingham, Jr., a journalist and historian, wrote about the questions about the namesake of Graves Ledge in his book History of Charlestown, published in 1845. (Download: History of Charlestown 1845; see page 140)
Frothingham found original documents containing the signatures of both men, and demonstrated that the signatures were completely different.
Engineer's family genealogy explains the difference
A family genealogy of Thomas Graves the engineer eliminates any confusion:
Thomas Graves, the engineer was of Gravesend, County of Kent, England, signed a contract with the Massachusetts Bay Company on 10 March 1628/9, arrived in New England in July 1629, and laid out Charlestown.  Thomas Graves, the engineer, was clearly not the same as Rear Admiral Thomas Graves.  In 1629 the engineer already had an impressive reputation for engineering, had traveled extensively, and had a wife and five children.  He was older than the 24 years of age that the Rear Admiral was at that time.
However, there was somewhat of a connection between the two Thomas Graveses.
According to the family history, Thomas Graves the engineer went to Salem, Massachusetts, in 1629, aboard the Talbot, a vessel whose master was 24 year-old Thomas Graves, the future admiral. The Talbot would become part of Governor Winthrop's fleet in 1630 under the young sailor's command.
Reason for the confusion
Scholars attribute the reason for the confusion about the identity of Graves Ledge's namesake as a research error made by an early New England historian. Thomas Prince (1687-1758) wrote a definitive work, A Chronological History of New England, first published in Boston in 1736. (Download: Chronological History New England)
"Prince in his Chronology of New England appends the name Thomas Graves, the engineer who laid out Charlestown, 'after, a rear admiral in England,'" historian Walter Kendall Watkins wrote in an article about the mariner. "This incorrect statement has mis-lead many people," Watkins concluded.
Watkins researched the mariner Graves and his family extensively, from original archived documents in England and the United States, using commercial, official, parish, and legal documents. He published his findings in the journal Colonial Wars: A Quarterly Magazine, published in 1913 (pp. 260-261). Download: Colonial_Wars
Not an Admiral Graves of the Crown
As if the above information didn't settle things, there remains energetic discussion about which Admiral Graves is the namesake of Graves Ledge.
Our Thomas Graves had a contemporary with the same name who was also a ship's master. He was Captain Thomas Graves, whose wife was also named Katherine, but he was a "gentleman" with the Virginia Company of London who settled in Jamestown after a 1608 supply run. Thus his arrival pre-dates our Thomas Graves by two decades, making him the first man named Graves in North America. But Gentleman Graves had no Massachusetts connection.
The 1700s saw at least three British naval admirals named Thomas Graves, all from different parts of England than our namesake: 
Because Massachusetts Governor John Winthrop reputedly named Graves Ledge in 1653, before the above admiral Graveses were born, we can safely rule out those admirals.
Additionally, Rear Admiral Lord Thomas Graves fought against the United States during the American Revolution, in the un-distinguished Battle of Chesapeake Bay in 1781. He had no known Massachusetts connection.
His cousin, Admiral Sir Thomas Graves, also served the Crown against American independence. 
This Thomas Graves does have a Massachusetts connection. As a young lieutenant in 1775, he was the unlucky commander of the brand-new royal schooner Diana, which Boston patriots attacked and destroyed at low tide in the mud during the Battle of Chelsea Creek. Before burning the vessel, the patriots cut off Diana's 76-foot main mast and erected it that August, after the Battle of Bunker Hill, as a liberty pole at General George Washington's headquarters at Prospect Hill (now Somerville, near Union Square).
It's highly unlikely that anybody in Boston would have named a harbor landmark after either of those Thomas Graveses.
Footnote: Lots of Graveses here. British Vice Admiral Samuel Graves bought the freshly-launched Diana from a Massachusetts shipwright in January, 1775.
He refitted her with 4 six-pound guns and 12 swivel guns and placed it under the command of his young nephew, the future Admiral Sir Thomas Graves, who would lose it four months later at Chelsea Creek, and escape with his men to the HMS Britannia, under the command of his brother, John Graves. (Wealthy family members in the British military could buy their commissions back then.)