Graves Ledge, or The Graves, is named after English Rear Admiral Thomas Graves (1605-1653), an early settler of Massachusetts Bay Colony whose family lived in Charlestown.
Various accounts of this particular Thomas Graves exist, many erroneous due to careless research and confusion among several men of the same name.
For now, we can safely say the following, based on genealogies and historical accounts.
The Thomas Graves for whom Graves Ledge is named was born in Stepney, London, England, in 1605. His father was a shipwright.
Graves took to sea early, and reportedly first visited Massachusetts in 1628. As a young man, he showed excellent seamanship and leadership skills. He served as vice admiral of the 11-vessel fleet of Governor John Winthrop in 1630, as captain of the Talbot.
Over the years Graves would bring thousands of English Puritan immigrants to Massachusetts. He captained the first ship built in America, the Tryall, on its second voyage from Boston to England.
For his service to the colony, he was awarded a land grant of 250 acres that included part of what is now Charlestown. He brought his family to live in Charlestown in 1636-37.
His frequent trans-Atlantic travel allowed Graves to maintain contact with leading figures in England. As a Puritan, he would have sympathized with Parliament under Oliver Cromwell, who led the Puritan forces that ousted the British monarchy and executed King Charles I, for whom Charlestown was named.
Thomas Graves' short naval career
As a civilian, Graves captured a Dutch privateer off the English coast in 1652. Britain was in hostile relations with the Dutch, mainly over trade issues and their rival East India companies.
In recognition of his courage and skill, Parliament appointed Graves captain of the 34-gun ship President.  The following year he took command of the 42-gun Andrew (which the Puritans had re-named from the original St. Andrew). He now had the rank of Rear Admiral of the White.
He commanded the Andrew against the Dutch in the Battle of Scheveningen (also known as the Battle of Texel or Battle of Ter Heidje) of the First Anglo-Dutch War.
During that battle, on July 31, 1653 of the old Julian calendar (August 10, 1653 on the new Gregorian calendar), Dutch fire-ships attacked the Andrew, setting her decks aflame.
Rear Admiral Thomas Graves of Charlestown, Massachusetts, was burned to death in the attack. His body was buried in England.
That year, Governor Winthrop named the hazardous stone ledges at the entrance to Boston Harbor in Graves' memory.
Another Thomas Graves founded Charlestown
Some historical accounts say that Rear Admiral Thomas Graves established Charlestown. Those accounts are not accurate.
Another Thomas Graves, an engineer, established Charlestown. That Thomas Graves was a few years older than our namesake, born in 1598 in Gravesend, Kent, England. He arrived with the Massachusetts Bay Company in 1629.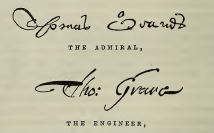 The signatures of the two Thomas Graveses differ (see image).
Charlestown Mayor Richard Frothingham, Jr., a journalist and historian, wrote about the questions about the namesake of Graves Ledge in his book History of Charlestown, published in 1845. (Download: History of Charlestown 1845; see page 140)
Frothingham found original signatures of both men. Rear Admiral Thomas Graves had signed his will in 1652, probated at Middlesex County, Massachusetts, on December 1, 1653.
Engineer Thomas Graves signed a contract in 1629 with the Massachusetts Bay Company.
Frothingham demonstrated in his book that the signatures were completely different.
Reason for the confusion
Scholars attribute the reason for the confusion about the identity of Graves Ledge's namesake as a research error made by an early New England historian. Thomas Prince (1687-1758) wrote a definitive work, A Chronological History of New England, first published in Boston in 1736. Download: Chronological History New England
"Prince in his Chronology of New England appends the name Thomas Graves, the engineer who laid out Charlestown, 'after, a rear admiral in England,'" historian Walter Kendall Watkins wrote in an article about the rear admiral. "This incorrect statement has mis-lead many people," Watkins concluded.
Watkins researched the mariner Graves and his family extensively, from original archived documents in England and the United States, using commercial, official, parish, and legal documents. He published his findings in the journal Colonial Wars: A Quarterly Magazine, published in 1913 (pp. 260-261). Download: Colonial_Wars