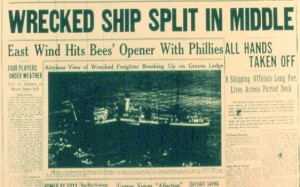 The treacherous ledges known as The Graves have brought a few ships to grief, and the wreckage makes for a relatively easy dive.
This page is about the shipwrecks around Graves Ledge, or with a connection to the ledge or Graves Light. See our sub-pages for the wrecks of:
The Shipwrecks of Boston Harbor contains an excellent interactive map, at BostonShipwrecks.org.
Boston Globe 1938 headline image courtesy of Wreckhunter.net.
Below is a gallery about the wrecks around The Graves.