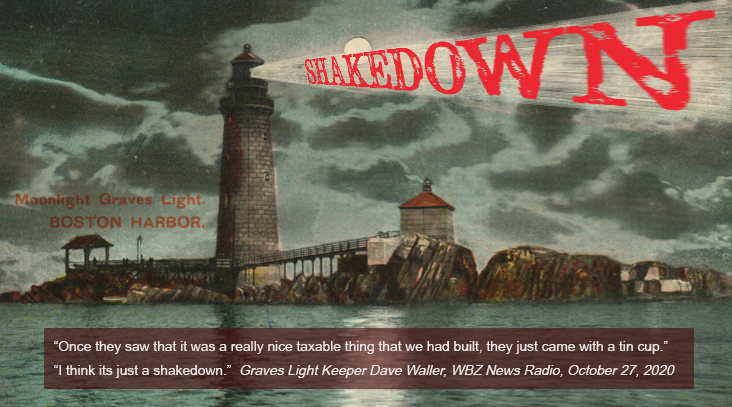 The Hull Town Counsel's leak to the Hull Times about the Hull Town Manager's effort to surreptitiously annex the unincorporated area around Graves Light is now a WBZ news story.
"Once they saw that it was a really nice taxable thing that we had built, they just came with a tin cup," Graves Light's Dave Waller told WBZ NewsRadio today.
"And I think its just a shakedown."
Shakedown indeed. WBZ Radio News reporter Karyn Regal called Hull Town Manager Phil Lemnios the morning of October 27 for the town's side of the story.
Lemnios hid.
"WBZ NewsRadio has reached out to the Hull Town Manager on Tuesday morning for comment," Regal reported.
The whole day passed and the stay-at-home-in-Natick town manager of the quiet little town of Hull couldn't return a call to Boston's biggest news radio station.

"We are awaiting a response," Regal posted at 4:39 PM, "and will update this article accordingly."
Here's the WBZ audio of Regal's story and Dave's comment.
<iframe allow="autoplay" width="100%" height="200" src="https://www.iheart.com/podcast/1002-wbz-newsradio-1030-audio-28657113/episode/owners-of-graves-light-speak-out-73019393/?embed=true" frameborder="0"></iframe>