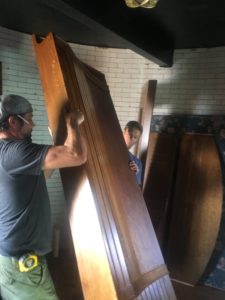 Now Graves has what every lighthouse needs: A space-saving Murphy bed that folds up to the wall.
Nat Towl of NMT Woodworking custom-built one of quartersawn oak over the summer.
The bed arrived at about the same time electricity lit up the interior of Graves for the first time in 40 years.
Made to fit the curvature of the wall, the bed comes complete with a red-and-black cover storm warning flag.
Nat's seen here with his pal Mike, installing the bed, which is perfectly balanced and, when closed, features an antique nautical chart of Massachusetts Bay.
Nat built Graves Light's curved kitchen bench last spring.