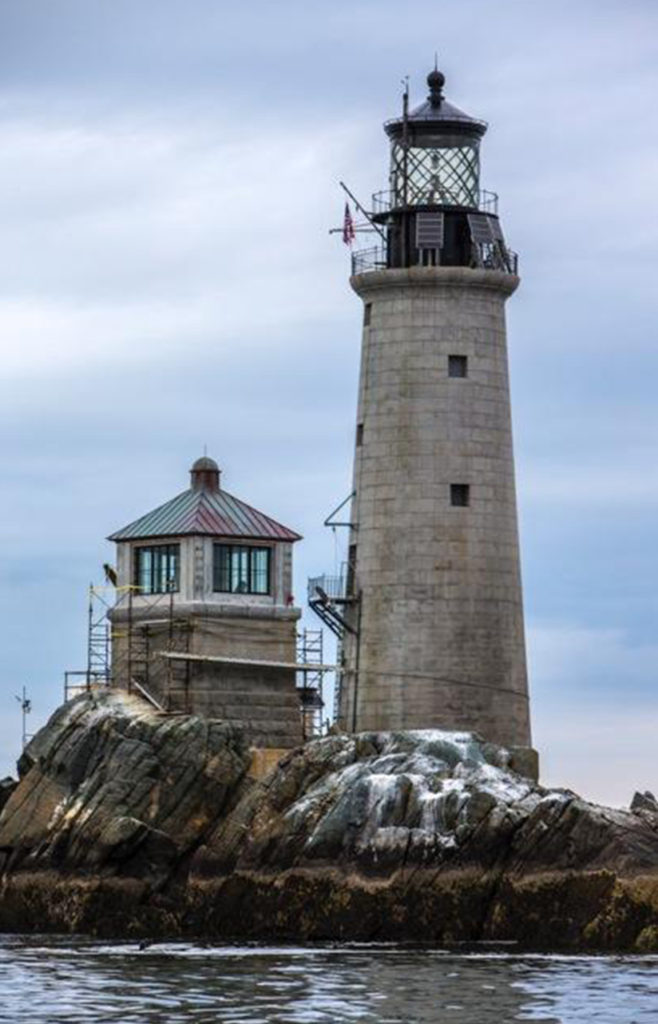 This is the big year for the Oil House restoration. We needed a decorative element to transition from the old stone blocks to the modern 2nd story.
Swenson Granite Works, a family business since 1883, cut a beautiful belt course of solid stone around the top of the original first story, to form a granite base of the new second level.
The fellows from Atlantic Restoration teamed up with King Pine Restorations to form a super-team to tackle the impossible.
Sixteen stones, each weighing 700 pounds, were hauled out in the Miss Cuddy I. She's former Coast Guard Defender vessel that had been the shuttle to Graves Light until rough waters last year dragged her mooring and wrecked her on the ledge. Her USCG-designed hull came out intact, so we pulled off the cabin and turned her into a barge.
After hauling each block to Graves Ledge on the Miss Cuddy I, we used an old-school derrick to hoist the granite 25 feet up the ledge, and then pinned the blocks into place.
This was no small job: these guys built the Zakim Bridge and it was rough going for 3 weeks.
A tip of the cap, Mike, Jason, Chris and Rob!