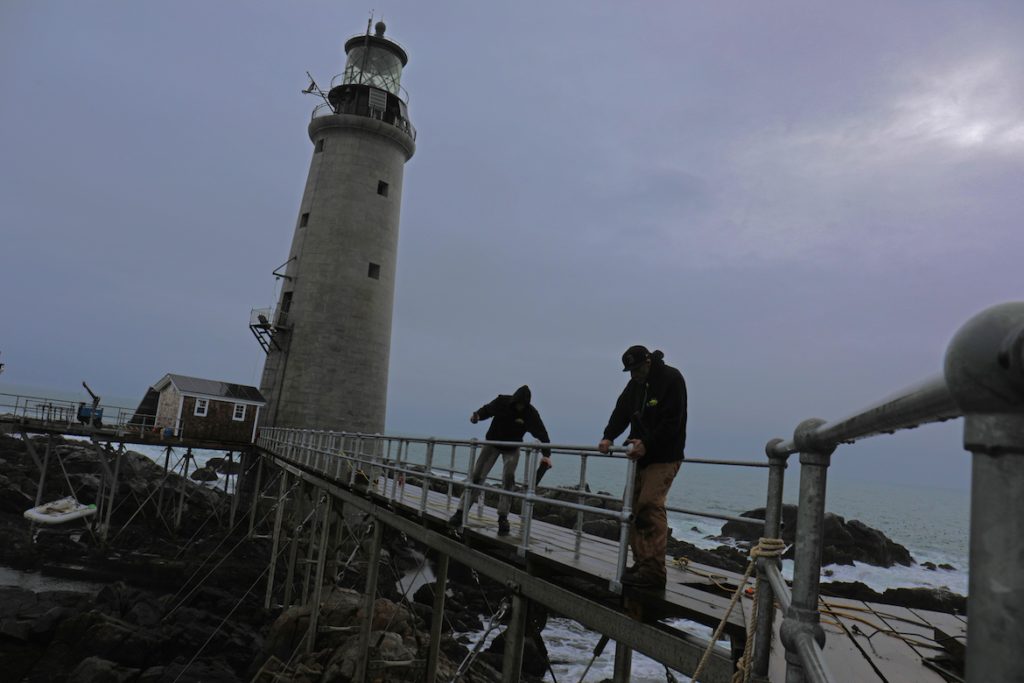 We're very excited to share the news that our two-year restoration and reconstruction of the historical Oil House and footbridge are now complete.
The original Graves footbridge, a steel structure that spanned the channel in Graves Ledge to link the lighthouse to the granite Oil House more than 100 feet away, was partially destroyed in the Great Blizzard of '78 and demolished by the "No Name" storm of 1991.
The original wooden roof of the Oil House became unsalvageable after years of heavy storms and neglect.
Even though we used modern engineering and materials, we strived to retain the character and spirit of the original designs. We built a new timberframe roof with a reinforced metal frame, sheathed in copper, and repurposed the original timbers that could be salvaged. We even added a belt course of solid granite.
Now, after 41 years, the Oil House is reconnected to the tower. It will serve as a guest cottage.
Last step this season was to install the replica railings before severe weather sets in, built by Nelson Metal Fabrication of Portland, Maine, and installed by Atlantic Restoration of Boston along with an all-star volunteer crew.
Original footbridge, circa 1910. (Courtesy of Bill Davis)

Footbridge as seen from the Oil House, 1945 (Boston Globe photo).

Footbridge ruined after Great Blizzard of '78, with Boston skyline.

The reconstructed footbridge, November 2019.

Billy and Chris install the last railing section, November 4, 2019.